Are you searching for a solution to close your Bybit account? If so, I show you how to delete Bybit account permanently on Android, iPhone, laptop, and PC.
Bybit is the global fastest-growing cryptocurrency trading platform that has millions of users around the world. Bybit offers the safest and most secure environment to trade cryptocurrencies. With the Bybit exchange, you can buy and sell cryptocurrencies such as Bitcoin, Ethereum, and many more. The platform offers you to trade more than 100 assets in spot and future contracts.
If you no longer want to use Bybit account to trade cryptocurrencies then you are in luck. Today, I am going to teach you how to delete Bybit account permanently in a few simple steps.
You can also check out other articles by which you can delete your Kucoin account and Trust wallet account permanently.
How to Delete Bybit Account
Follow the simple steps below from your mobile browsers or Dekstop to delete your Bybit account.
1. Visit https://www.bybit.com/ and log in to your account.
2. Click on the 'Profile icon' and navigate to 'Account & Security'.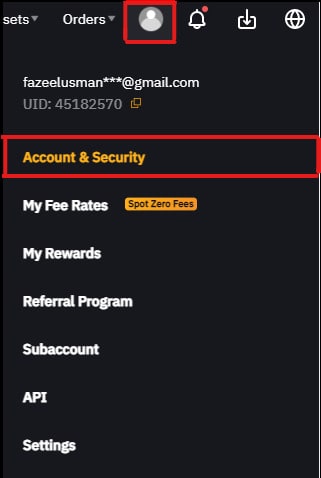 3. Scroll down to Account Activities and click on 'Deactivate an Account'.

4. Then, click on the 'Deactivate This Account' button.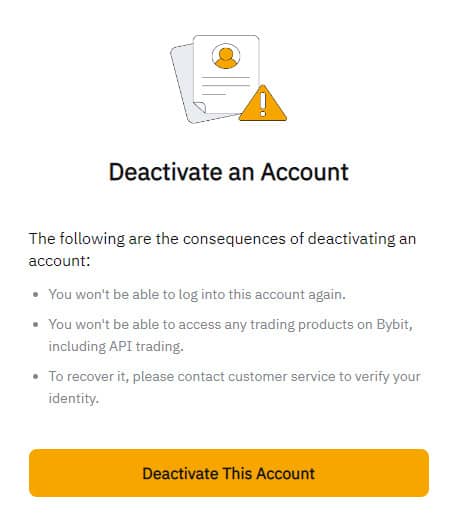 5. A pop-up will appear, click on the 'Confirm' button.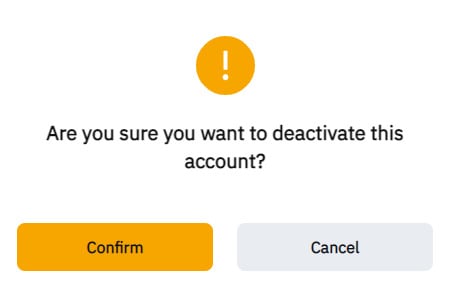 By following the above steps, your Bybit account will be deleted permanently. You will receive an email from Bybit regarding your account deactivation. If you want to reactivate your Bybit account then contact their customer support via [email protected].
Conclusion
I hope this article on how to delete Bybit account assisted you. If anyone is looking for a solution to close Bybit account then you should share it with them. Moreover, if you are facing any difficulty then you ask me in the comments.