Are you looking for the easiest solution to unsub Zong 786 service? If so, I show you how to unsub Zong Islamic service in a few simple steps.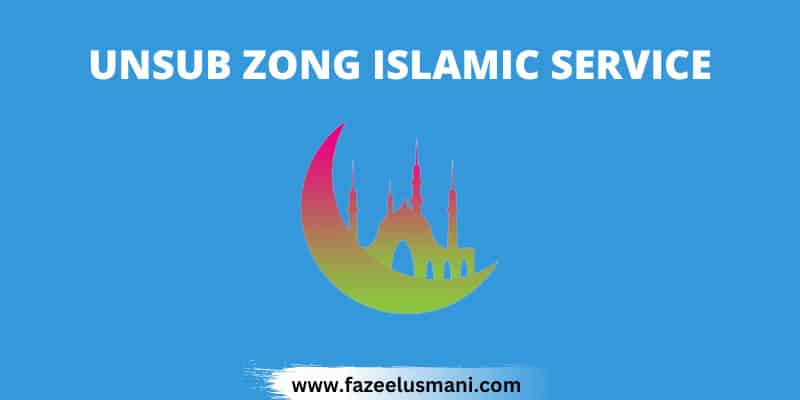 Zong Islamic service is an offer launched by Zong for all its users. In this offer, users get all the Islamic information including Namaz timings, Namaz alerts, Ramadan calendar, Quran planner, Quran & translation, Ramazan recipes, and many more. Zong Islamic service subscription daily charges are Rs.3 while monthly charges are Rs. 25 including tax. 
If you mistakenly activated Zong Islamic service through My Zong App, SMS, or *786# code then you are at the right place. Today, I am going to show the simple steps by which you can unsub from Zong Islamic service.
You can also check out another useful article that helps you to unsubscribe from Tapmad TV.
How to Unsub Zong Islamic Service
Here is how to unsub Zong Islamic service.
Method 1: Through SMS
1. Open messages on your mobile phone.
2. Open a new message and type 'Unsub'.
3. Send it to '7867'.
4. You will receive a confirmation message about package deactivation.
Method 2: Through App
1. Open the My Zong App and log in to your account.
2. Navigate to the 'More' option from the bottom menu.
3. Here, you have to select the 'Packages' option.
4. You will see a package that is already active on your Zong sim.
5. Select the 'Zong Islamic service package'.
5. On the new screen, click on the 'Unsubscribe' button.
6. Once you click on the unsubscribe button, Zong Islamic service offer will be deactivated.
Conclusion
I hope this article on how to unsub Zong Islamic service helps you. If you like these methods to unsubscribe from Zong Islamic portal then share it with your friends. If you have any questions about the Zong Islamic service then you can ask me in the comments.