How to make money online in Pakistan by clicking ads. If you are looking for ads clicking jobs in Pakistan then these sites are for you.
Click to earn is a way to earn money online from home with no investment. The paid-to-clicks websites allow you to earn a few cents like 0.1$ per click. This is not much but it can be used as a second earning source. You can increase your earnings by referring to others. When they will sign up through your referral link, you will earn a commission.
The paid-to-click sites allow you to earn from different ways such as ads clicking, watch advertisements, complete offers, watch videos, and make referrals. This is the easiest way to make money online in Pakistan by clicking Ads with no investment.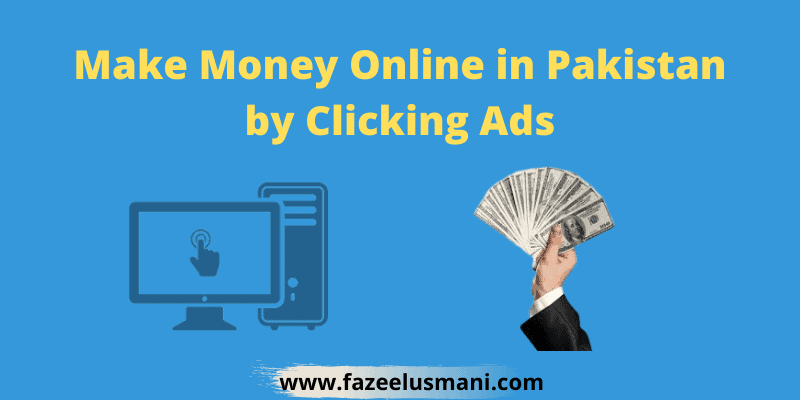 Best Make Money Online by Clicking Ads Sites
The following are legit Ads clicking jobs sites in Pakistan. If you work on the below-mentioned websites then you will definitely get your money. If any of the websites stop paying then I will remove them from the list.
1.

Swagbucks
When it comes to Paid to click sites, Swagbucks is the leading trusted PTC website that was founded in 2008 by Prodege, LLC. You don't need any investment to work on this website. They also have an Android app for mobile phone users. You will earn SB points on completing tasks. Each 100 SB points are equal to 1$. They have amazing customer support to solve customer problems. They allow you to earn money through watching ads, play games online, earn cash back, download apps,  and complete surveys.
2.

Neobux
Neobux is another PTC platform by which you can earn money by clicking ads. Besides this, you can increase your earnings by completing surveys and referring to your friends. You can start earning with zero investment but they also have membership plans for users who want to boost their earnings. They don't have an Android app for mobile users. Moreover, their customer support is limited to the forum page because they don't provide support via email.
3.

ySense (ClixSense)
ySense is another legit paid-to-click website that was launched in 2007. It was previously known as ClixSense but Prodege LLC bought this platform in 2019 and changed its name to ySense. You can earn money by clicking ads, completing tasks, and surveys. You will earn 0.3$ on each referral. Besides this, when your referrals earn 5$ then you will get a bonus of 2$ from each referral. They have an Android application for mobile users. They solve customer problems through their fast customer support.
4.

GrabPoints
GrabPoint also allows you to make money by clicking. It was launched in 2014 by Reward Holdings Limited. This is a legitimate website and users are satisfied with them. They don't have an Android app so mobile users will also have to visit their website. you don't need any investment to work on this website. The 1000 GrabPoints are equal to 1$.  You can earn money by watching ads, completing offers, download apps, create an account, refer friends, etc.
My Opinion on Make Money in Pakistan by Clicking Ads
According to my opinion, ads clicking jobs in Pakistan is the best way to earn part-time income. You can work anytime or anywhere. All you need to have the internet to work on the above websites. If you are a student, housewife or a job person then you should work in your spare time.
You should work on Neobux as it pays the highest payout rates. You can withdraw money in Pakistan through Neteller and Payza.
If you have any questions regarding online earning then don't hesitate to ask in the comments. I will help you as much as I can. Bookmark this website for more online earning ideas.