If you no longer want to be a part of the Skout Community then I show you how to delete Skout account permanently from your Android phone or PC.
Skout is a social networking and dating platform which is available for both Android and Desktop users. It helps users to meet strangers near to them. According to the SKOUT report, around 500 million connections were made through its app in 2013.
I also shared a guide to Delete your Badoo Account on the Android app.
How to Delete Skout Account Permanently
You need to go through the below steps to easily delete your Skout Account permanently from your mobile phone and PC.
1. Open Skout app on your smartphone and log in to your account.
2. Click on the Hamberger menu at the top left side of the screen.
3. Go to the Settings and click on Deactivate Account under the Account menu.
4. In the new window, you need to click on Deactivate. When you deactivate your account, other users won't be able to view your profile. If you don't reactivate your account within 60 days, your profile and account will be deleted permanently.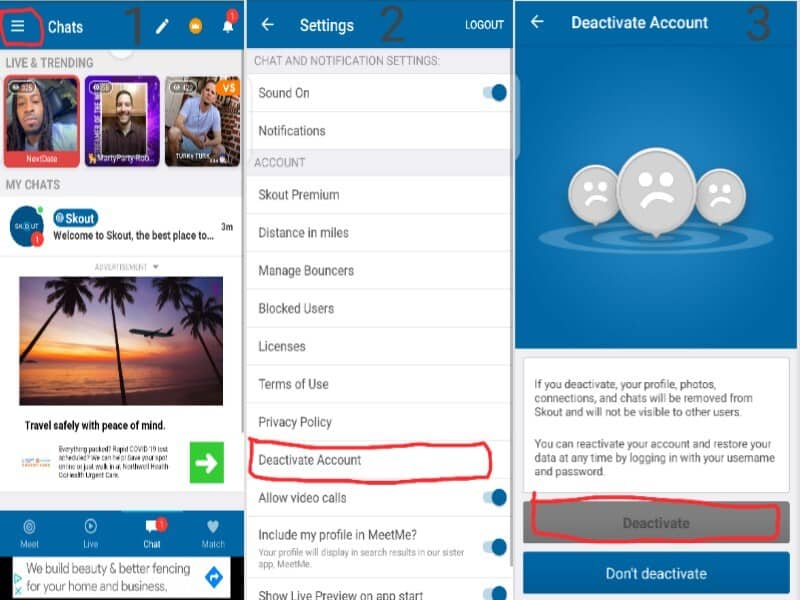 In this way, you can easily deactivate your Skout account permanently. If you don't have the Skout app installed on your phone then you can also delete the Skout account through Email. You have to send them a mail at [email protected] from your email that is registered on the Skout app.
Conclusion
I hope this guide assisted you to deactivate your Skout account permanently. You must share this article with the one who is looking for it.
You can subscribe to my YouTube Channel for cool and helpful videos. Moreover, you may also find me on Facebook and Twitter.