Making a Payoneer is an easy task, but if you don't know how to create Payoneer account in Pakistan then this guide is always for you.
Managing a business online is not an easy task. Especially if you're doing cross-border or international business. Even freelancers, lose a lot of opportunities due to insufficient resources of accepting payments from international clients. But don't worry anymore cause Payoneer is here to solve all your fund-related issues. 
Payoneer is a platform that manages your funds globally. It helps you unlock a load of opportunities by providing you with an account to receive and send funds internationally. You can also tap into new markets and even receive digital FIRC with the help of Payoneer. Moreover, you can also link your Payoneer to PayPal and withdraw money from your PayPal account.
How to Create Payoneer Account in Pakistan
So, let's jump straight into how to create a Payoneer account in Pakistan or any other country with these simple steps.
1. Log on to www.payoneer.com and click on the 'Register' button in the orange box, visible on the top right corner of the screen.
2. You will see a prompt asking you to fill in your profession. Choose I'm an 'Individual' from the dropdown menu.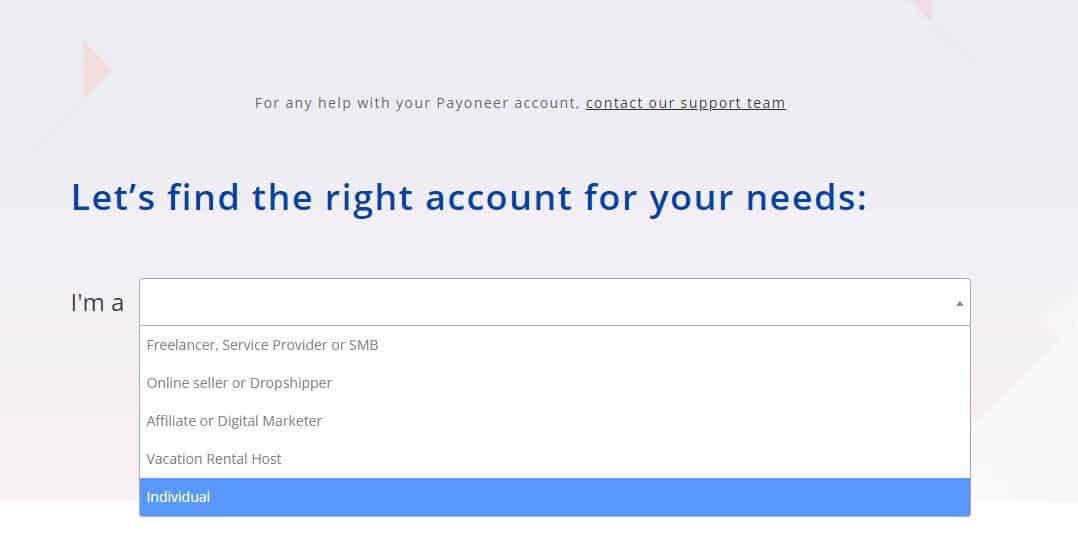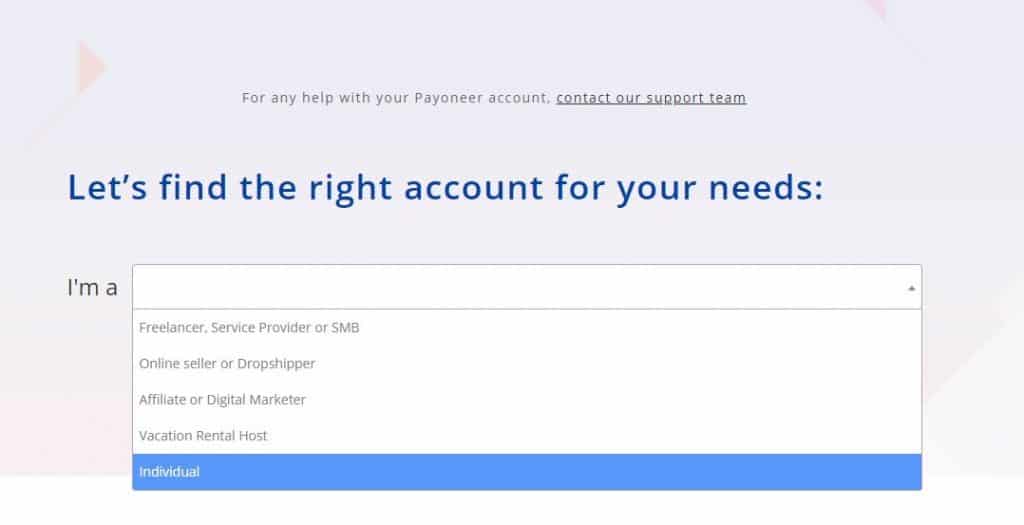 3. In the new option, select 'Get paid by international clients or marketplaces.' After choosing this option you will be redirected to the Register page again. Click on the Register button in the orange box.
4. After clicking on the register button, you will see the Payoneer Signup page. Click on Individual from the type of business section.
5. Fill in your first and last name separately in the respective fields and then enter your email address twice as shown in the picture. Lastly, fill in your date of birth and click on Next.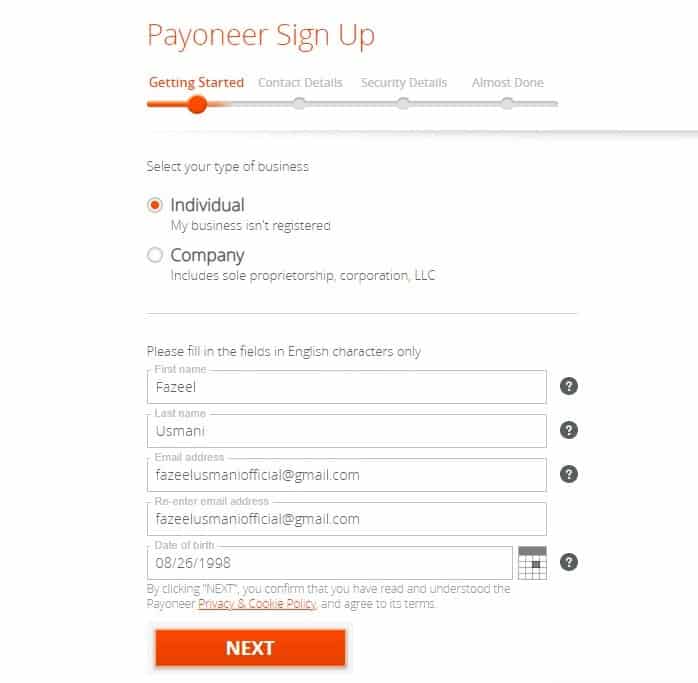 6. After clicking on the Next button, you will see fields to enter your Contact Details. Here you need to enter your Country, and address along with your phone number.
7. Click on Send code from the verification box after entering your number. You will then receive a text message with a verification code from Payoneer. Enter the code into the verification box and click on Next.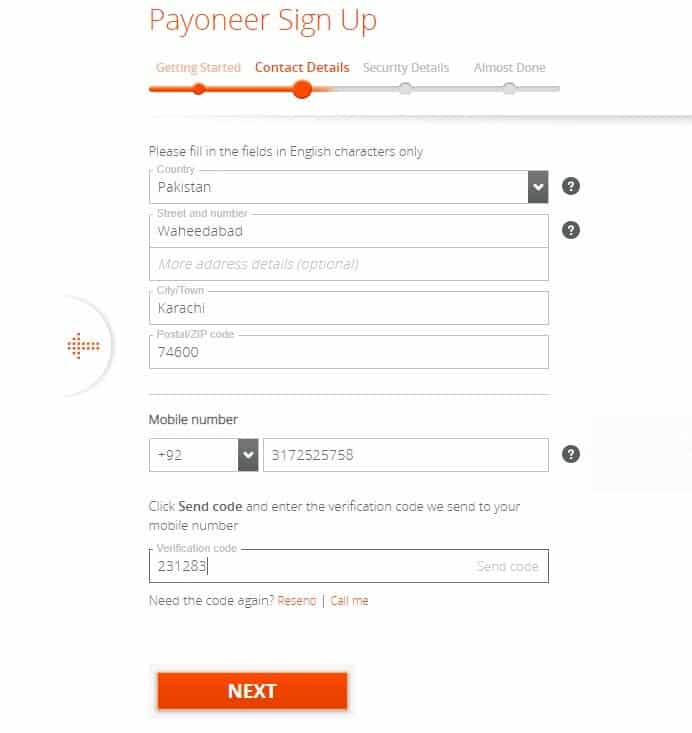 8. You will now land on the Security Details page. Here you must carefully fill up all the details. First, fill up your username and then enter your password twice in the respective fields. After that, you need to select a security question and then a security answer.
Note: This is an important question since it helps you recover your account so make sure you select something that you don't forget easily.
9. Enter your issuing country of ID which is Pakistan. Then select the type of ID you want to proceed with and enter the Identification Number for the same. Now enter your first and last name in your local language which is Urdu.
Tip: you can use google translator to copy-paste your name if you don't have an Urdu keyboard
10. Enter the captcha verification code into the box and click on Next.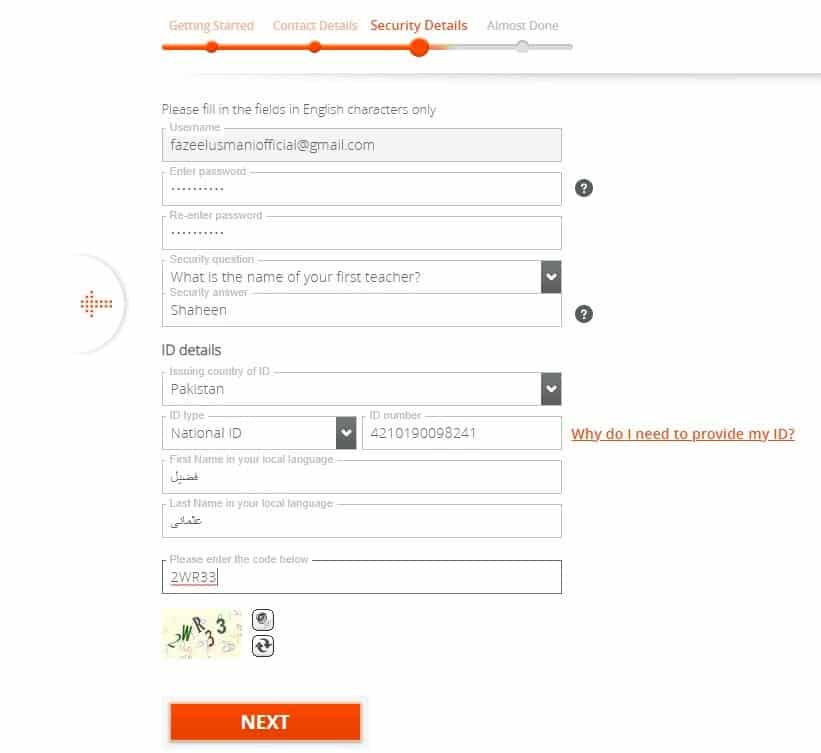 11. After clicking on next, You will reach the last page to fill in your bank details. Choose Personal Bank from the type of account option. Then enter the country of your Bank which is Pakistan here, and select PKR under Currency from the drop-down menu.
12. Enter your bank details as visible in the picture including the name of the Bank from the drop-down menu and then enter the account holder's name followed by the account number.
13. Click on the boxes agreeing to the terms & conditions and pricing. Then click on the Submit button visible at the end in orange color.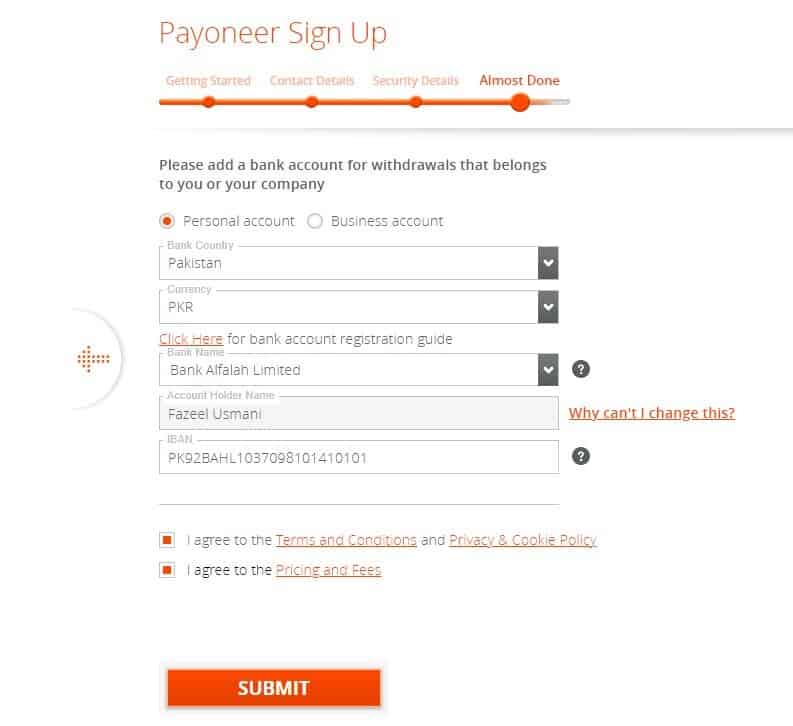 Voila! You will now see a congratulations message saying that your application is completed and is currently in review. You will soon receive a confirmation email from the Payoneer team within the next several business days. After you receive the confirmation email you will be successfully able to receive and withdraw funds.
How to Make Payoneer Account with JazzCash
If you don't have a personal bank account then you can make a Payoneer account with JazzCash. All you need to do is Select JazzCash under Bank Name from the drop-down menu, it will automatically fetch the JazzCash Iban Number. After that, you have to Sign In to your Payoneer Account with the same credentials and submit the front and backside of Government issues Photo ID. It will take 24-48 hours to approve your Payoneer account.
Conclusion
Hope you were able to create a Payoneer account with the help of these steps. If you found it useful, please consider sharing it with others who might find this useful tool.